Home
Take a look, you
might want to come
and stay awhile...
COVID-19 LOCKDOWN UPDATES
(Posted 03/07/2020. Last updated 07/05/2021.)
*** The Executive has agreed a number of relaxations of the current restrictions, that will come into force over the coming weeks. We will update this page further as the practical implications of these changes for Rathlin become clearer. ***
*** In the meantime, #StayLocal and #StaySafe. ***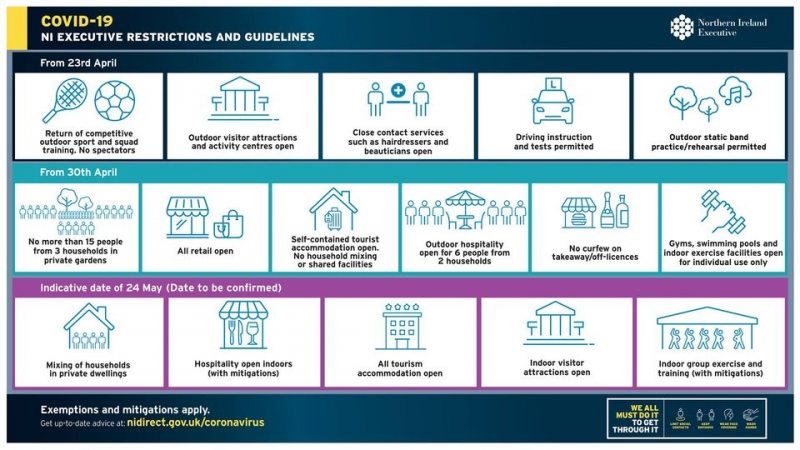 To book sailings, please ring Rathlin Island Ferry Ltd (RIFL) on
028 2076 9299, or email them at: info@rathlinballycastleferry.com.
For full detail on ferry arrangements please go to the RIFL website.
The latest update from Rathlin Island Ferry Ltd (17/04/21): "Following the most recent announcement made by the Executive visitors are permitted to travel to Rathlin from Friday 23rd April 2021. Bookings must be made directly via the ferry office at least 30 minutes before sailing time. Bookings can be made by phone on 02820769299 or email: info@rathlinballycastleferry.com between the hours of 08.30-12.30 and 13.30-17.00. Our office remains closed to the public. Our winter timetable will be in operation until 28th May inclusive, currently we can only accept bookings up to this date. Our Summer timetable should be confirmed within the next few weeks. Face coverings must be worn for the duration of the crossing unless you are exempt from wearing one. Passengers should adhere to social distancing guidelines and follow crew instructions at all times. For information regarding opening of island businesses please contact each one directly, contact details can be found on the Rathlin community website: http://www.rathlincommunity.org/ Please do not travel if you are experiencing any Covid related symptoms."
RIFL is operating a reduced timetable with reduced capacity to facilitate 1 Metre social distancing (see updated timetable and capacities below), which is at the discretion of the operator.
From Thursday 1st October 2020 WINTER TIMETABLE 2020/21:
Rathlin Express (Passengers Only, 25 mins approx.)
Depart Rathlin: 08.00 / Depart Ballycastle: 08.30 (Monday to Friday only)
Depart Rathlin: 12.00 / Depart Ballycastle: 14.00
Depart Rathlin: 16.00 / Depart Ballycastle: 16.30 (1st November 2020 - 31st January 2021)
Depart Rathlin: 16.30 / Depart Ballycastle: 17.00 (1st - 31st October 2020 & 1st February - 31st March 2021)
Spirit Of Rathlin (Passengers & Vehicles, 40 mins approx.)
Depart Rathlin: 09.00 / Depart Ballycastle: 10.30
Depart Rathlin: 15.00 / Depart Ballycastle: 16.00
Capacity per sailing:
RIFL is operating with 1m social distancing policy and the maximum capacity per sailing is detailed below:
Rathlin Express – 35 passengers maximum per sailing
Spirit Of Rathlin – 45 passengers maximum per sailing
RIFL has implemented a new Refund Policy, due to an increasing number of 'no shows' and late cancellations.
The Winter Timetable has been extended, and is currently still in operation. The situation will be reviewed in the coming weeks.
~~~~~~~~~~~~~~~~~~~~~~~~~~~~~~~
*** Although Rathlin's ferry service is now reopening to visitors, the Island itself has not yet reopened fully from the lockdown. ***
McCuaig's Bar reopened on Friday 30th April, open from 2.00pm, outdoor only. The Manor House is now taking bookings, and reopens on Tuesday 1st June. The Water Shed Café will remain closed for the rest of this season.
The island shop is open, serving tea and coffee as well as groceries. Also open is Island Treasures gift shop and post office. Breakwater Studio reopened on Friday 30th April. The West Light Seabird Centre reopens on Saturday 29th May. The bicycle hire reopens on Friday 4th June (advance booking required). The Boathouse Visitor Centre remains closed. Bus tours are not currently running.
Much of the island's accommodation has reopened, though some remains closed. Rathlin Island Hostel is open on the basis of lets of the whole building at a time. Druim Apartments is open on a limited basis. The Glamping Pods are open for the season. Rathlin Venture self catering is now also reopened for bookings. Coolnagrock B&B and Soerneog View Hostel will both remain closed for the 2021 season.
The Public Toilets at the harbour are open. The children's playground is also now open.
The harbour's pontoons are now open again to visiting vessels, with some restrictions. See full information here.
*** There is currently nowhere on the island to sit down & have a meal or get takeaway food from so please bring food with you. ***
*** Apart from the bus shelter there is nowhere to shelter from the weather so please bring appropriate clothing. ***
*** Please adhere to mask wearing, social distancing, hand washing and other official public health guidance while visiting Rathlin, and keep both yourself and the island community safe and healthy. ***
#WearAMask, #WashYourHands & #StaySafe

~~~~~~~~~~~~~~~~~~~~~~~~~~~~~~~
Hello and welcome to the Rathlin Community website! This is a resource for both the island community and our visitors. We hope to continue to help communication and interaction among the Rathlin community, and with the wider world.
We have lots of information on how to get to the island and what to do when you step ashore. And if you are curious about what life is really like on the island then we can help with that too. It's easy to explore using the links on the left and below, and includes lots of pics and beautiful banner photos. Welcome, and enjoy!