Getting to Rathlin
Rathlin Island, County Antrim is situated off the north east coast of Ireland. It is the only inhabited offshore island in Northern Ireland. Most people will travel to Rathlin via the ferry service operating from Ballycastle, County Antrim, just six miles from the harbour on the island. It is quick and easy to get to the port, and quick and easy to get across to us on the island.
By Car
Ballycastle, County Antrim is just over an hour's drive from Belfast and from Derry, and about three hours from Dublin. From Belfast, take the M2 north, turning off onto the A26 at Junction 1. Continue on the A26 northwards, bypassing Ballymena on another section of the M2. After about 20 miles, turn right onto the A44, through Armoy and on to Ballycastle. At the town, continue on down to the seafront and turn left, past the marina and on to the ferry terminal building at the top of the slipway. Nearly there!
By Public Transport
There are a number of bus routes to Ballycastle, with a stop at Marine Corner, close to the marina and ferry terminal. See here for details.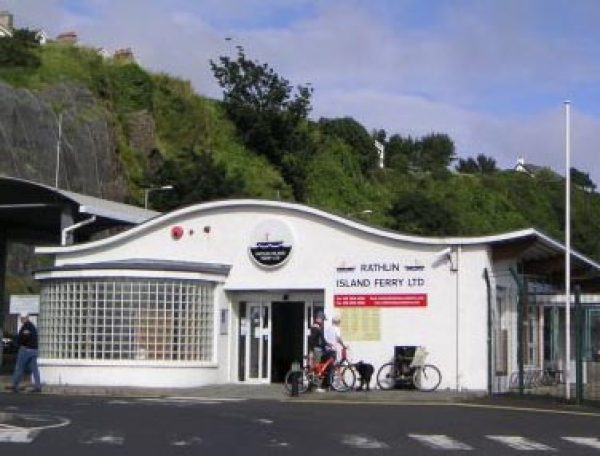 Facebook
From 3rd July 2020 – Visitor Travel Permitted to Rathlin Island.
Rathlin Island Ferry Limited are operating a reduced timetable with reduced capacity to facilitate our 2m social distancing, which is at the discretion of the operator.
1. Fri 3rd to Sun 5th July:(Rathlin Express 25min)
Depart Rathlin @ 09.00 and 15.00 / Depart Ballycastle @ 10.30 and 16.00.
2. From Monday 6th July NEW DAILY TIMETABLE:
(Rathlin Express 25min)
Depart Rathlin @ 08.00 and 16.30 / Depart Ballycastle @ 08.30 and 17.00
(Spirit of Rathlin 40 min)
Depart Rathlin @ 08.30 and 15.30 / Depart Ballycastle @ 10.00 and 16.30
Although the ferry is open to visitors, the Island itself has not yet opened fully. Our staff cannot provide information for the businesses on the Island, we are the transport provider only. We advise contacting individual businesses on the Island details can be found on Community Association website: http://rathlincommunity.org/
THINGS YOU NEED TO KNOW:
• Passenger 3 years and over will be required to wear a face covering for the duration of the crossing, with exception of those with underlying Lung Conditions, you should advise staff of this at time of booking.
• Hand Sanitiser will be provided.
• We are operating contactless ticketing until further notice.
• Pre-booking is required. Bookings must be made at least the day before requested travel date. (except for medical emergency)
• Bookings can be made by phone, email, or Facebook messenger. Phonelines are open daily 08.30 to 12.15 and 13.45 to 16.45. Bookings for the next day received by email or Facebook messenger after 16.45 will not be accepted.
• When you book you will be asked for payment over the phone, along with your postcode, house number and phone number for contact tracing. This information will be held for 21 days after travel, your information is protected and disposed of in accordance with GDPR regulations.
• There is no public access to our terminal, toilets are located at the back of the Ferry terminal Carpark and onboard the vessel.
• On day of travel foot passengers should arrive at the ferry at least 15 minutes before departure and vehicle traffic 30 minutes before departure. Queue at the designated area and await crew instructions, crew will check you in by asking your name.
• Vehicle capacity is available; restriction apply ask staff for more information.
Public Toilet Facilities on Rathlin Island will be open from 3rd July on restricted hours:
Fri 3rd - Sun 5th open: 11.30am - 2.30pm
Mon 6th July until further notice open: 10am - 4pm
In these uncertain times, changes are expected and could be at short notice, we will post any changes to operations on our website and Facebook page.
**IF YOU ARE SYMPTOMATIC TRAVEL IS NOT ADVISED**
-----------------------------------------------------------------
"Rathlin Island Ferry Service – New Travel Arrangements
**Information in this statement is correct at date of publish 25/06/20, Any changes will be published on our Website and Facebook Page.**
Following consultation with the Department for Infrastructure and the Rathlin Development and Community Association new travel arrangements will be put in place on the Rathlin Island Ferry Service. From Friday 26 June people who have pre booked accommodation (including second homes) on the island will be able to travel on the ferry. From Friday 3rd July tourists wishing to visit the island using the ferry service will be able to do so. These arrangements have been drawn up taking into account public health concerns and are in line with the Health Protection (Coronavirus, Restrictions) (Northern Ireland) Regulations 2020 and subsequent amendments. They are also reflective of the steps being taken by the Northern Ireland Executive to recover from the current pandemic.
We would ask everyone using our service to respect our staff and crew and to adhere to the conditions of travel that we are implementing to ensure the safety of our passengers and crew. These are set out in more detail below. You should note that we are still operating fewer sailings than normal at this time of year and our capacity is significantly reduced. Please continue to be responsible when considering travel. Your decision to travel could impact someone else's ability to travel – for example key workers and those travelling for medical reasons.
As the capacity per sailing has been reduced to a maximum of 20 people per sailing (due to measures introduced to maintain social distancing) we are only accepting advance bookings. The capacity per sailing may be reduced to less than the maximum to account for variables including weather and sea conditions. This is to ensure passenger comfort as the outer decks will be in use. The capacity will be solely decided by RIFL with guidance from Maritime and Coastguard Agency only.
Travel is not permitted if you are experiencing symptoms of COVID-19.
These arrangements are constantly under review and we are ready to respond with additional capacity should demand warrant such a move. When on the island please respect the local community as we all transition from lockdown.
CONDITIONS OF TRAVEL:
How to BOOK and PAY for travel -
1. Passengers must book the day before requested travel date, this can be done by phone, email or Facebook Messenger during office hours 09.00 – 12.30 & 14.30 – 16.00 (subject to change, changes will be published on our Website and Facebook page). Any bookings sent by email after the office closes will not be accepted. Bookings cannot be made with the crew. NO walk-on passengers will be authorised, except for medical or emergency services.
2. Contact details to be provided at time of booking – Name, Phone number, email address and postal address. This will allow us to contact all passengers for contact tracing should a case be suspected.
3. Contactless ticketing will be maintained, we ask all passengers to pay over the phone at the time of booking. If this is not possible, we ask that the correct monies be given to crew on embarkation. Alternatively, if you wish you can pay for travel at the end of the month. Please inform staff at the time of booking.
WHAT PPE WE REQUIRE YOU TO HAVE -
4. All passenger must wear a face covering for the duration, from embarkation to disembarkation.
5. All passengers must wear disposable gloves for the duration, from embarkation to disembarkation, dispose of in the bins provided at the ramp. Crew will then dispose of the bagged rubbish as per guidelines.
(subject to change, office staff will inform of requirements at time of booking or check our website and facebook page for up to date information)
OTHER INFORMATION -
6. CREW ARE IN CHARGE OF PASSENGER MOVEMENT AT ALL TIMES, PLEASE LISTEN AND FOLLOW INSTRUCTIONS. Anyone not willing to follow crew instructions may be refused travel.
7. On boarding the vessel crew will provide hand sanitiser for each passenger.
8. Where possible passengers are encouraged to travel in their vehicle, this reduces the contact during the crossing. Normal vehicle charges apply.
9. RIFL will deliver to vulnerable residents only. Subject to change, Island will be notified by Ferry Text of any changes.
10. RIFL will notify residents of deliveries and leave them in bus shelter for collection daily after 12noon. Subject to change, Island will be notified by Ferry Text of any changes.
11.
12. Any change to ferry timetable will be notified by:
• Ferry Text (contact office if you wish to be added to text service or need number changed)
• posted on our website www.rathlinballycastleferry.com
• posted on our Facebook page https://www.facebook.com/Rathlin-Island-Ferry-Ltd-196883733700472/
These travel conditions apply to all passengers, Island residents included.
To help enforce these conditions of travel we plan to do the following:
 Have signage on both slipways, on-board vessel and at terminal to advise of social distancing
 Markers on the slipway indicating 2 metre distance.
 Markers on vessels indicating 2 metre distance.
 Hand Sanitiser on-board vessel.
 We will operate one-way systems:
 SOR will be embarking through port side door/stairwell & disembarking through starboard side door/stairwell.
 RE will be embarking through access gate, to the left, past the stairwell, round stairwell past toilet and into saloon. When saloon is full then passengers will be guided up the stairs to upper deck.
 Minimum of 1 crew member will be present on each deck throughout the crossing.
 Crew will guide embarking/disembarking to enforce social distancing.
 Seating will be clearly marked to maintain at least 2 metre distance.
If you have any queries or concerns about travelling, please do not hesitate to contact RIFL management and discuss in confidence.
MARY – 07553359596
SIOBHAN – 07706807584
Email: ciaranandmary@hotmail.com
siobhanmorton@hotmail.com"
The ferry service operates from Ballycastle, County Antrim. During the summer season, there are up to 10 sailings in each direction and up to five a day during the winter timetable season. The crossings are served by two vessels, the passenger-only vessel MV Rathlin Express (taking 25 minutes approximately to cross), and the new car ferry the MV Spirit of Rathlin (40 minutes approximately), which was purpose-built for the Rathlin route, and replaced the MV Canna.
The 2019 Summer timetable runs from Thursday 17th April to Sunday 22nd September inclusive.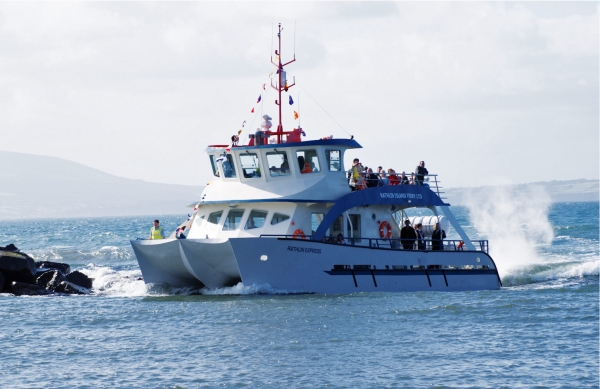 The passenger-only ferry, the Rathlin Express.
Booking is very advisable, and bookings can be made in person, by phone or by email. Adult return - £12.00, Child (5 - 15 yrs) return - £6.00, family day return - £32.00, children under 5 and senior citizens with valid NI Smart Pass go free. Bicycles may be carried on either ferry for £3.30 return. Please note that there are restrictions on visitors bringing their cars to the island - contact the ferry company for details.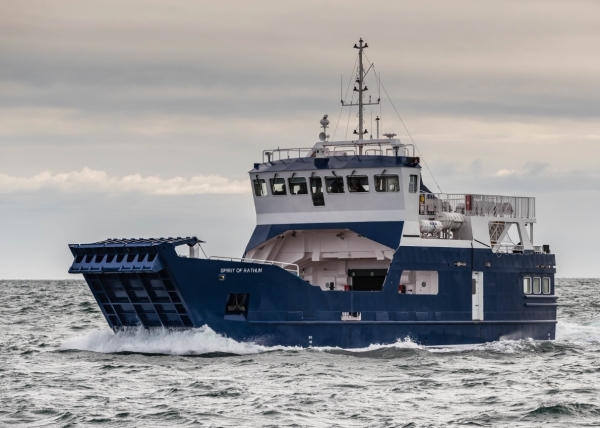 The new car ferry, the Spirit of Rathlin.
The ticket office in Ballycastle is open for bookings 08.30 - 18.30 in April, May and September, 08.00 - 18.30 in June, July and August, and 08.30 - 17.00 (closed for lunch 12.30 - 13.30) September to March. For further details contact Rathlin Island Ferry Ltd or call 028 207 69299.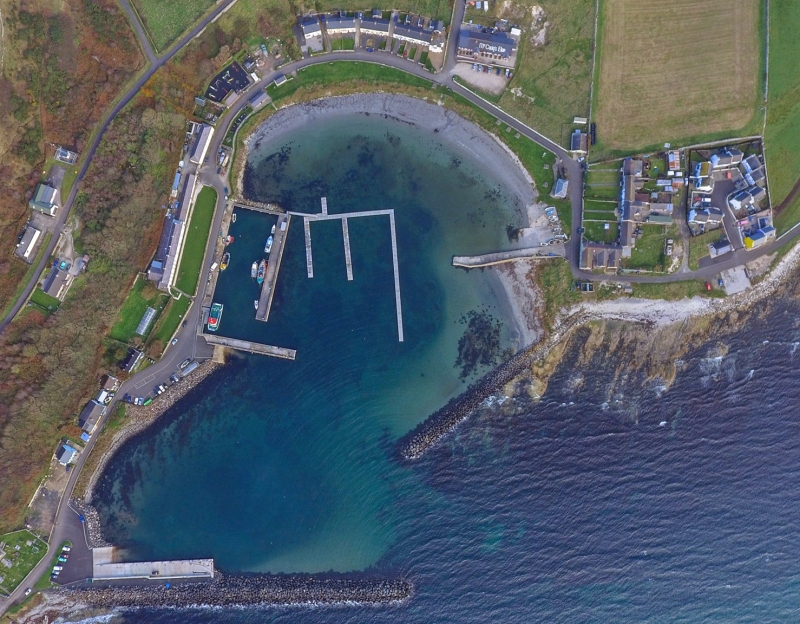 Drone photo of pontoons and harbour at Church Bay by Douglas Cecil
*** Update from Causeway Coast and Glens Borough Council, 08/07/20: ***
"All Harbours in Causeway Coast and Glens are now open.
This includes visiting vessel berths at Ballycastle, Coleraine Marina, Portrush Harbour and Rathlin Island.
Overnight stays on board are permitted.
All visiting vessels must book in advance and will be asked to pre-pay prior to arrival. This will secure a suitable berthing space and avoid disappointment.
Anyone requiring fuel must also book in advance.
Please use the relevant number below to book:
Portrush Harbour/ Coleraine Marina: 028 708 22307 or
07889 081860
Ballycastle Marina: 028 207 68525 or 07803 505084
Rathlin: 07724594118 or call Ballycastle numbers for assistance
Visitors are asked to adhere to current social distancing guidance and be aware of other users.
Good hand hygiene will be essential, especially around common contact points such as handles and railings.
Harbour Offices will remain closed for public access. Opening hours, where staff will be available, will be limited with times displayed onsite.
Toilets and shower facilities will be available on a limited basis and restricted for use during office hours.
Please show consideration to staff who continue to carry out their tasks during these difficult times.
Check our website for further information."
The new pontoons in the harbour at Church Bay have berths for approximately 40 boats. Berthing fees as follows:
Rathlin Harbour & Marina Charges
01/04/17 - 31/03/18
Annual Berth £61.35/MTR
Summer Berth £45.20/MTR
Winter Berth £39.82/MTR
Monthly Berth £21.53/MTR
Weekly Berth £10.76/MTR
Daily/Overnight £21.50
Short Stay (6hrs) £11.00
Slipway £12.80 per day
£107.63 per year
These charges are applicable to all private leisure vessels and small commercial vessels.
Rathlin Harbour Fishing Vessel Charges
01/04/17 - 31/03/18
Annual Berth £33.36/MTR
Summer Berth £24.58/MTR
Winter Berth £21.66/MTR
Monthly Berth £9.15/MTR
Weekly Berth £5.38/MTR
Daily/Overnight £21.50
Short Stay (6hrs) £10.75
Slipway £12.80 per day
£107.63 per year
These charges are only applicable to fishing vessels that have a valid fishing licence and certificate of registry.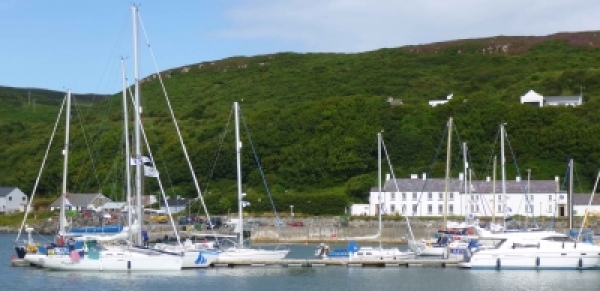 Rathlin Marina Assistant Contact Number: 077 2459 4118
Harbour Master John Morton
Portnagree House
14 Bayview Road
Ballycastle
Co Antrim
BT54 6BT
More information available here.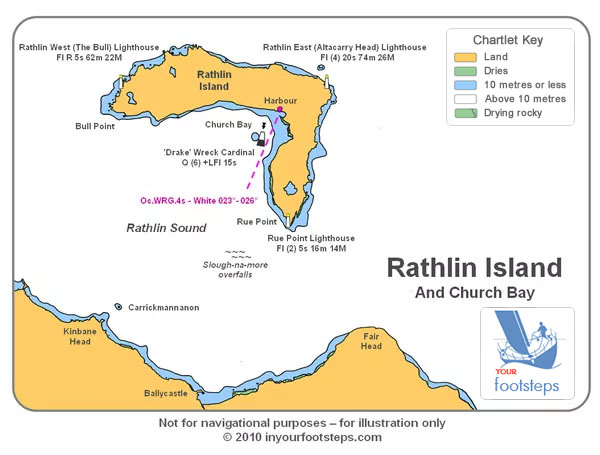 Detailed info on sailing into the harbour at Church Bay available here.
Marine Traffic's page for Rathlin's harbour.