Shops and Businesses on Rathlin
* Please read the special arrangements that are in place (see here) for the gradual relaxation of lockdown restrictions on Rathlin and on travel to the island, before planning a visit. Thank you. *
Rathlin has a small but enthusiastic business community that includes restaurants, accommodation, shops and other small businesses.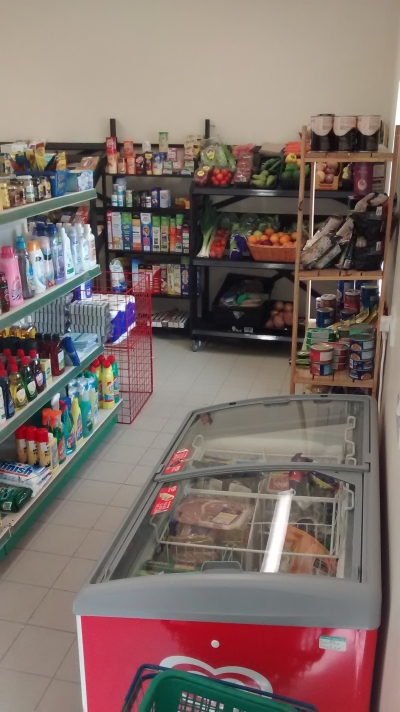 Facebook
The Rathlin Island Co-op Shop is a community opwned and run shop. All profits go back into the community. We run with a combination of paid workers and our lovely volunteers. We provide a vital service to residents and visitors alike! The shop sells a wide range of groceries and general supplies, as well as souvenirs made on Rathlin including jewellery and crafts, and take away tea and coffee. The shop is situated in the building to the right of the Manor House.
*** New Opening hours from Friday 1st October 2021: ***
Monday-Saturday: 11.00am-1.00pm & 2.00pm-4.00pm
Closed Sundays
* Please use hand sanitiser provided when you enter the shop.
* Only 2 people at a time in the shop.
* Only 1 member per household if possible.
* No children if possible.
* Please use baskets instead of leaving items on the counter (baskets are cleaned down after every use)
* We have marked out the floor to help you maintain the 2m distancing rule.
* If you can pay by card please do so.
Hours will differ during winter months.
Island Treasures Souvenir Shop and Post Office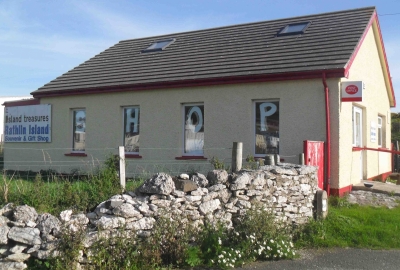 Situated in Church Bay, a short walk south of the harbour. A selection of gifts to suit all ages. Prints, paintings and photographs of Rathlin. Books, postcards and handmade cards. Rathlin t-shirts, pens, pencils, fridge magnets, etc. Souvenirs with a nautical theme. Selection of Island made soaps. Ice lollies, drinks and sweets. Beach toys and general toys. Island post office offering a wide range of Post Office services.
Island Treasures Opening hours:
Monday - Friday 11.00am - 3.00pm
Saturday & sunday 12.00pm - 3.00pm
Post Office Opening Hours:
Monday - Friday 11.00am - 3.00pm
For further information, or for weekend opening out of season, contact Catriona Blaney on 078 6866 3283.
Breakwater Studio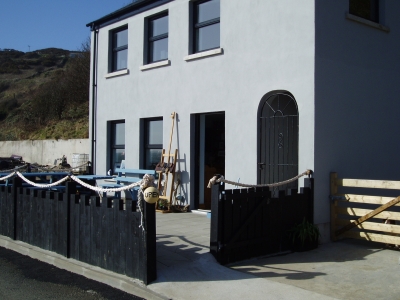 Breakwater Studio is the studio and home of resident artist Yvonne Braithwaite. She produces a wide range of Greeting Cards, Aprons, Tea Towels and Bags for Life from her original Art works, all of which are available direct from the Studio.
In addition the Studio also stocks an attractive range of Local Pottery, "Field Day" Candles, Lip Balms, Soaps and Diffusers, Handbags, Scarves, handmade "Rathlin Mugs", Celtic Themed Jewellery, Rathlin Ceramic Coasters and Fridge Magnets, Celtic Hats, Scarves, Gloves and Neckies which are Hand Crocheted by our Daughter "Tanya" as well as an extensive range of Gift items.
Breakwater Studio is now fully re-opened for business under the following conditions.
Opening and Closing times as detailed below:
Monday - Closed
Tuesday - 11.00am - 4.30pm
Wednesday - Sunday - 08.30am - 4.30pm
Closed for lunch each day from 12.30pm - 1.30pm
"COVID RESTRICTIONS"
The Studio has been accredited as "Good to Go" in respect of our COVID prevention measures.
Face coverings must be worn in the Studio (No Exceptions)
Only 3 persons permitted in the Studio at any one time.
Hands must be sanitised at the sanitising station before entering the Studio.
Please respect social distancing inside the Studio.
Due to the ongoing restricted access regulations, Children are currently NOT permitted in the Studio.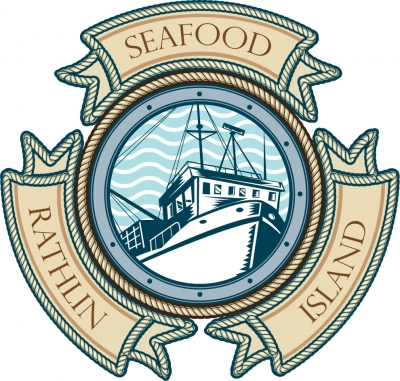 Facebook
Rathlin Island Seafoods supplies freshly caught fish, crab and lobster, and their produce is available in the island shop. For enquiries or orders, call Benji: 077 1702 8169 or Liam: 077 1170 0603.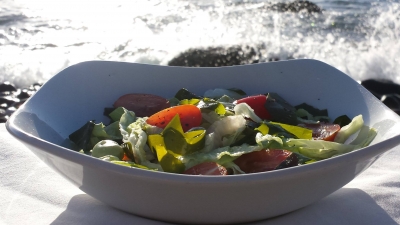 Facebook
Islander® Rathlin Kelp is a new range of kelp products produced on Rathlin Island. Islander® Rathlin Kelp grow, harvest, process and export organic kelp to specialist food retailers, distributors and restaurants around the world. Only in the perfect conditions of the cool clear waters off Rathlin will you get a premium sea vegetable of this quality for use across a range of delicious culinary experiences.
Email: islanderseafood@gmail.com
Phone: 028 2076 5082
Mobile (UK): + 44 (0) 79 2502 5211
Mobile (RoI): + 353 (0) 87 114 8078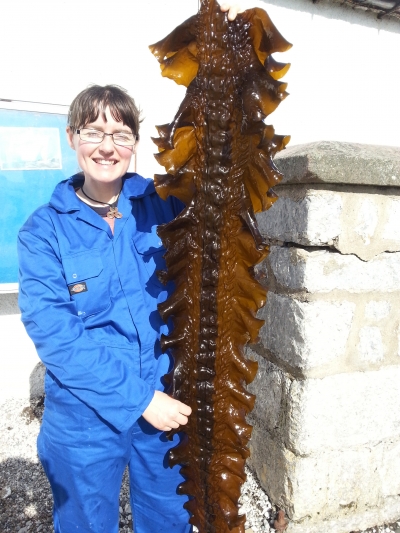 Islander® Rathlin Kelp - Talk and Tour (free)
Visit the kelp lab and see how we grow baby kelp plants. Learn about the different seaweeds on Rathlin. Visit the kelp farm in Church Bay, Rathlin (small charge, and weather permitting). For more information call Sarah on 078 4944 1691.
The Rathlin Co-op is a group of island residents that took over the running of the island shop in December 2011 and has worked in the crafts area for a number of years. the Co-op is looking forward to developing more new ideas in the future.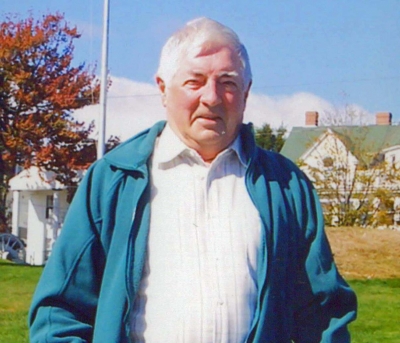 Augustine (Gusty) McCurdy was an author and local historian. Gusty was born on Rathlin, spent some of his teenage years in Belfast, and later went to England where he married and raised a family. Finally returning to Rathlin with his wife Judy, he found more time to follow his life-long interest in Irish history and particularly Rathlin's history.
He wrote five books about Rathlin, which are available in Island Treasures and the Boathouse Visitor Centre on the island, McLister's Newsagents, Ballycastle and Ceathru Poili, Falls Road Belfast and on Amazon.
Gusty's books are: Rathlin's Rugged Story, An Island Childhood, Stories and Legends of Rathlin, Gaeilge Reachlann, and Walking on Rathlin.
Augustine McCurdy passed away on Sunday 26th October 2014 after a short illness.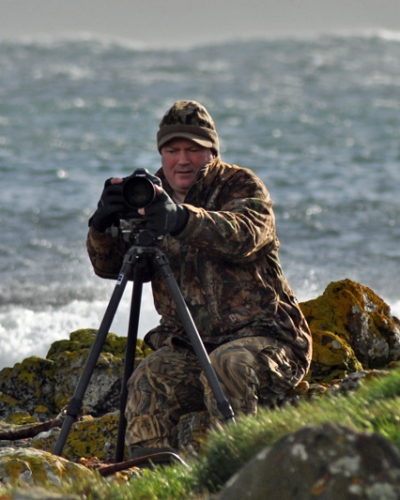 Facebook
Northcoast Nature is run by wildlife and landscape photographer and Rathlin resident Tom McDonnell (Ph: 2076 0080/077 2308 7668). Tom offers photography workshops, with opportunities to photograph Rathlin's stunning land and seascapes, seabirds, birds of prey, seals and maybe even the very rare Rathlin golden hare. His photographs are available in the Breakwater Studio on the island and several outlets in Ballycastle.
An up to date walking booklet for eight fabulous walks on Rathlin Island.
This detailed guide with photos of every stage of the walks points out the ruins and places of interest along the way giving a brief account of events that happened there.
These booklets are available in Island Treasures giftshop, the Boathouse Visitor Centre and Breakwater Studio on the island, and in the Ferry Office, the Tourist Information Centre and McLister's newsagents in Ballycastle, or can be bought direct from the author Nicky Sebastian (028 2076 0028 / islandnicky@aol.com). More information here.