Launch of High Street Spend Local Card
Wednesday 29th September 2021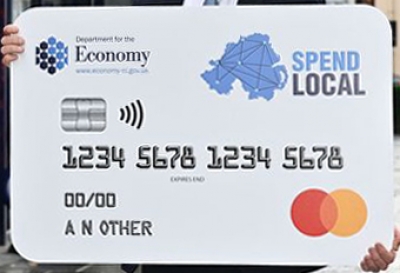 The application process for the Department for the Economy's High Street Spend Local card has now opened online. For more information, see here, and the online application starts here.
To apply, you will be asked for your: National Insurance number, name, address, date of birth, sex, disability status (specifying if you have a visual impairment), email address (this will be pre-populated), telephone number, driving licence number (this is optional but will help speed up the checking process).
For anyone who prefers to apply by phone, telephone applications will open on Monday 11th October and close on Monday 25th October. You will need to give the same personal information to an agent who will make the application on your behalf.
The card can be used to purchase goods and services from any business located in Northern Ireland that accepts card payments. It cannot be used online or to withdraw cash and it cannot be topped up.
Applications close on Monday 25th October, and the cards must be used by Tuesday 30th November 2021.