Rathlin Celebrates Fairtrade Fortnight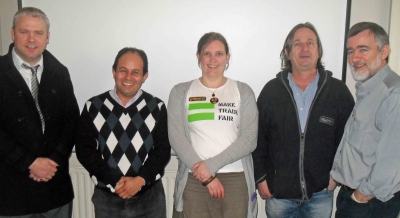 Cllr Padraig McShane, Sigfredo Benitez, Jessica Bates of Rathlin Fairtrade Group, Peter Gaynor, Fairtrade Ireland & David Quinney Mee, Community Development Worker, RDCA
Friday 9 March 2012
On Tuesday 6th March, Rathlin Island's Fairtrade Group celebrated
Fairtrade Fortnight with an event hosted in the Manor House. There was a
very good turnout from the island with over twenty people attending –
that's almost a quarter of Rathlin's whole population! A small group of
volunteers, supported by the Rathlin Development & Community Association
and St Mary's Primary School, has held Fairtrade Fortnight events for
the past two years now.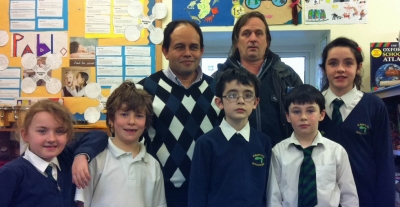 Sigfredo Benitez & Peter Gaynor visit St Mary's Primary School
The group was delighted to welcome Cllr Padraig McShane, Chair of Moyle
District Council, Fr Brian Daly, Parish Priest of Ballycastle, and in
particular, Peter Gaynor, Executive Director of Fairtrade Ireland, and
Sigfredo Benitez, manager of the Cooperativa Los Pinos, coffee producers
co-op, El Salvador.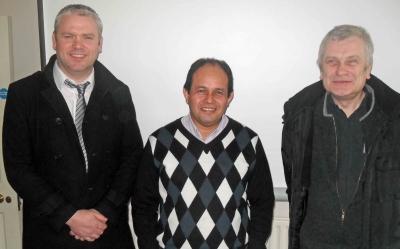 Cllr Padraig McShane, Sigfredo Benitez & Fr Brian Daly
Sigfredo Benitez spoke about the work of the coffee producing co-op and
the real day-to-day impact Fairtrade has had on his community in El
Salvador, with new pre-school facilities, play areas for children, and
eco-stoves for more than a hundred households among the achievements.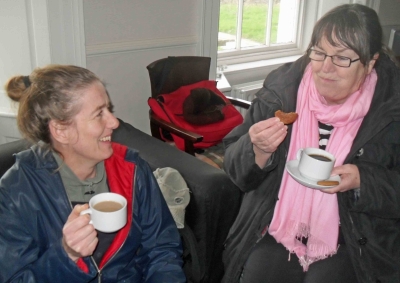 Ann Henderson & Liz Withers enjoying a Fairtrade cuppa
Peter Gaynor talked about how Fairtrade has now become mainstream, with
major supermarkets stocking a variety of Fairtrade products, major
chocolate brands releasing Fairtrade lines, and a variety of communities
and local authorities achieving Fairtrade status, such as Belfast City
Council.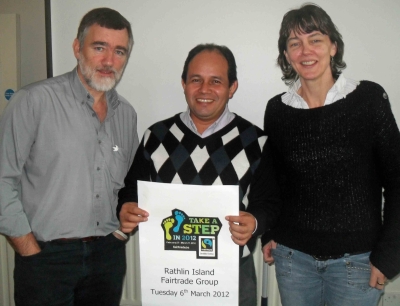 Former El Salvador residents David and Rachel Quinney Mee with Sigfredo Benitez
The Rathlin Island Fairtrade Group talked about the Fairtrade activities
on the island and the local businesses and organisations that were
supporting Fairtrade, and about the future development of Fairtrade on
the island.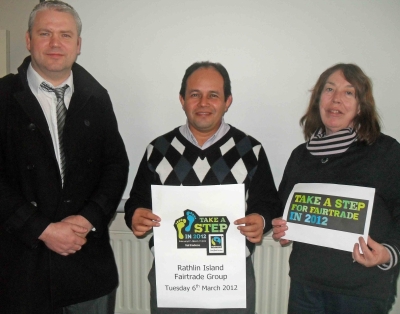 Cllr Padraig McShane, Sigfredo Benitez & Angela Green take a step for Fairtrade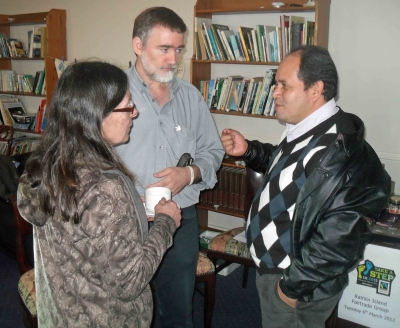 Mary Hannahan & David Quinney Mee meet Sigfredo Benitez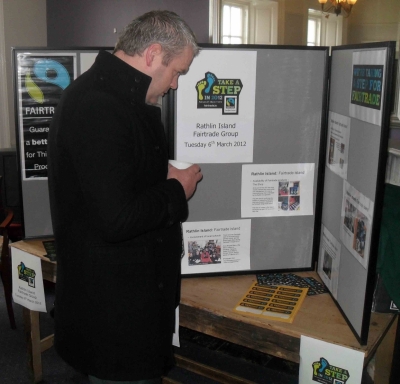 Cllr Padraig McShane reads some of the Rathlin Fairtrade display