Rathlin Ministerial Forum Meets in the Manor House
Friday 23 September 2016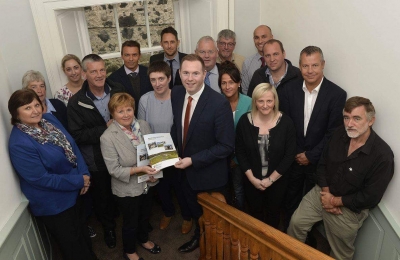 Minister Hazzard with representatives from the RDCA, Executive Departments and the Council in the stairwell of the Manor House.
On Wednesday 21st September, the Ministerial Forum met in the Manor House, chaired by Chris Hazzard MLA, Minister for Infrastructure. The meeting saw the launch of the Rathlin Island Action Plan 2016-2020.
The Forum was the latest in a series of now annual meetings designed to ensure the smooth implementation of Executive policies concerning the island, and of coordination between the various departments, the Causeway Coast & Glens Borough Council and the RDCA.
It was the first Forum to be held since the reorganisation of Stormont departments, with Infrastructure taking over most of the responsibilities of the old Department for Regional Development, as well as the first since Chris Hazzard was appointed minister.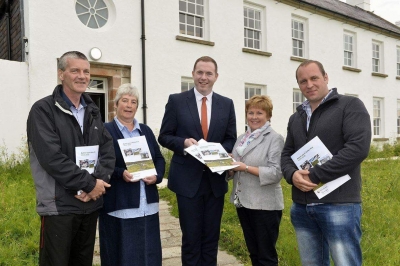 Minister Hazzard with RDCA Committee members Michael Cecil, Marina McMullan, Patricia McCurdy and Fergus McFaul.
The Minister said: "My firm commitment to the community on Rathlin Island is to ensure that the policy aims and objectives in this latest Action Plan are taken forward. Working with the Rathlin Development and Community Association, I aim to deliver the best possible infrastructure package for the community to help it continue to grow and prosper."
The Forum also discussed a range of issues concerning the island community including the housing shortage, childcare, domiciliary care, and the wind turbine project. It was also an opportunity to showcase the extensively refurbished Manor House, as well as road-test it for similar events in the future.